The Course Navigation Menu at the left side of the course contains items for different options in the course.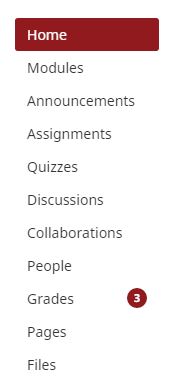 As a teacher you have a full list of items available in the course menu. Some are also visible for the students and some are only visible for the students if you choose to use them in your course, i.e. quizzes.
See more here.
If you want to reduce confusions and support the student's overview you can re-organise the menu items. Go to Settings > Navigation and remove irrelevant menu items. You will still have access to all items, but the students will no longer see the items, you have removed. This could be "conference", "chat", "pages" etc. Even if you have removed "Pages" from the course menu, you can still use pages in your course and access the pages from your course menu but the "Pages" item will be invisable to the students.
Add an extra item to the menu 
Additional menu items can be added to your course menu i.e. Course plan. In this way the students will always have the added menu item present in their course menu and go directly to a specific content. You can also make a direct link to a folder with data sets, that is used throughout the course. Here is a guide on how to: