Here you will find several guides on how to use the different options in Kaltura Media. Kaltura Media is a media platform that is integrated in Absalon.
With Kaltura in Absalon, you will have two new features: My Media and Media Gallery.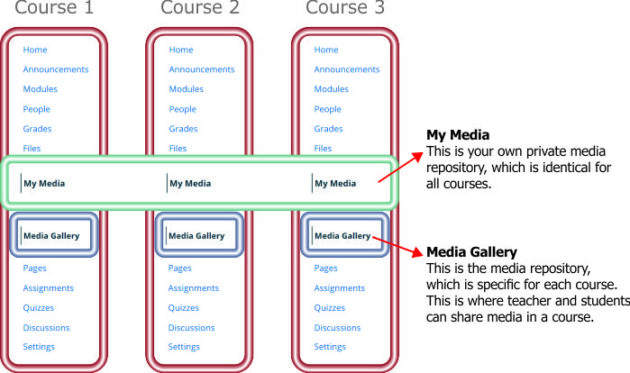 In the following you will find guides for different ways of using Kaltura
1. A general guide to Kaltura in Absalon
This guide contains most of the possibilities you have for using the Kaltura Media.
Below you will find guides for some of the specific functions.
Guide to Kaltura Media in Absalon
2. Using Kaltura for screen capture
In this guide you will learn how to install Kaltura Capture and the options you have when using Kaltura Capture.
Guide to screen capture with Kaltura in Absalon
You might need to trim the video. You can learn how in the next guide.
You might also like to take a look at this special page about Kaltura Capture with video tutorials.
3. The pop-up editor for trimming videos and making video quizzes in Absalon
In this guide you will learn to use the pop-up editor in My Media in Absalon. It shows how to trim the uploaded videos and how to to make a video quiz. It is possible to add the video quiz as an assignment in Absalon.
The Kaltura video editor and quiz maker in Absalon
You can share this guide on how to answer a video quiz with your students: https://knowledge.kaltura.com/help/kaltura-video-quizzes—how-to-take-a-quiz
4. Another page about the possibilities of sharing media in Absalon with your students.
You can find a guide on how to upload media and how to share it with your students.
5. Add a YouTube video to My Media in Absalon.
You can add public YouTube videos to your My Media library. You can then share the video in a commercial-free version with your students.
Go to your My Media in a course in Absalon, click on "Add new" and then "YouTube".
Insert the link to the YouTube video. The Content ID will automatically be extracted.
Metadata from YouTube will automatically be imported, but you must fill out the rest of the form to publish.

Click "Save" and then "Go to media" to publish/share.
6. Students sharing media in the course's Media Gallery
You can allow the students to share media in Media Gallery. There are teachers guide on the options and practices in Media Gallery, followed by a guide for the students.
Teachers guide to Media Gallery
This next guide you can share with your student. It is a guide on how to upload media to Absalon and how to share it in Media Gallery. The guide can be used by teacher as well.
Students' guide on how to share in Media Gallery
7. Students submitting a video as an assignment, the smart way.
Instead of handing in a video as a file in an assignment you then have to download, you can make your students use Kaltura Media when submitting video. This guide shows you how to set up an assignment so the student can embed videos in a text entry. Thus all teachers can view the videos online and give comments in Speedgrader.
Students submitting a video assignment in Absalon
The guide also show you how to insert a video toturial for the students. You can see the toturial here.
Likewise you can see a demo of how to find the videos in Speedgrader. Here you can see the short demo.