Teaching and sharing are two sides of the same thing. Giving students access to relevant material at the right time in the best possible way is an important part of the logistics of teaching. In this article we will guide you through different ways of sharing content between students and helping them engage with it.
Absalon: the go-to place for sharing content
1. Absalon, UCPH's learning management system, gives every group of students a platform for sharing content between the students and with their teachers. Every group has a Group Home Page with a menu, which is a reduced course menu.
Every teacher appears as "member" of each student group and will receive any announcement from the group. Here the students can share files and create Pages and Discussions.
2. The students to share files attached to replies in Discussions. In a discussion, if you want them to learn from each other, they can attach files in the replies of a discussion thread, e.g. students can share submissions from assignments with other students through a discussion thread. The option to add files to replies is turned on by default but can be turned off in the Course Settings.
3. The third possibility in Absalon is to use the Collaboration tool. Here you create documents in e.g. in your own Microsoft OneDrive and then assign each document to specific students who can work together on the document. It is also an options to use Google Docs*.
4. A fourth possibility in Absalon is to give students editing privileges on a page. In this way the page will have the function of a wiki-page where everyone can edit. It is not possible select who can edit. Pages, like true wiki's, has a history, which makes it possible to reverse changes.
What is the value
All students have access to Absalon
Content can be shared in different ways
Shared (and synchronised) folders
When collaborating with peers on a project it is often convenient to share a set of files to make sure that everyone involved has access to the latest version of the files. The students have access to Microsoft OneDrive in Absalon and it is possible for one student to share folders and documents with other students from here. Alternatively the students can share folders and files Google Docs*. In Assignments in Absalon, it is possible for the students to submit files from both OnDrive and Google Doc*. The students can install both OneDrive and Google Drive* on their own hard drive synchronizing files with the cloud version with the possibility to work offline.
Alternatively, the students have access to Microsoft Teams, where they can share and co-edit files. You can create many teams and many channels within a team. Teams has a built-in chat function, as well as creating desktop video conferences. Students at the university can download the app from https://www.office.com/
Dropbox, Box* and many other private companies offer services that let you share folders and files with a group a people and have them downloaded automatically to everyone's hard drive when files are updated or new files are added. The files can also be accessed online through a web browser.
What is the value
All students/collaborators have access to the same folders and files
Files are downloaded to the hard drive automatically and are therefore accessible offline too
Works well with large numbers of files or files that are frequently updated
Collaborative editing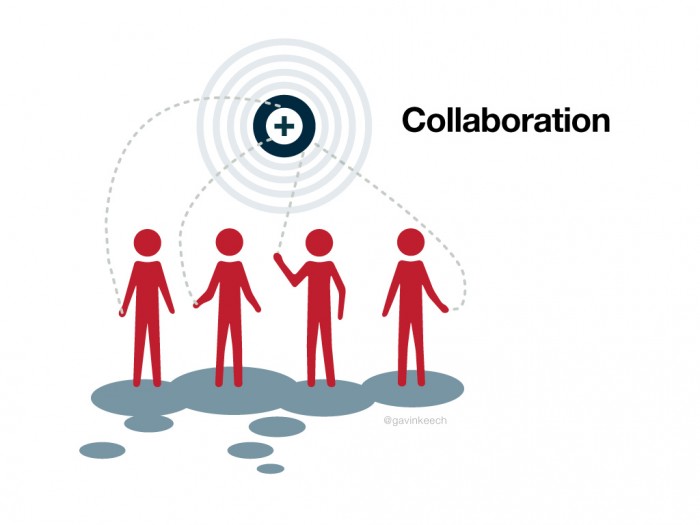 When students (or researchers) are co-writing an assignment or an article, they often end up with numerous versions of a document, and keeping track of changes and comments can be a challenge.
Online word processing services such as Office 365 or Google Docs* let you work on just one version of a document with several editors; all editing at the same time (in Word Online you cannot edit same paragraph simultaneously). So instead of editing your document in an application installed on your computer – for example Microsoft Word – you can access and edit your shared documents online.
From a learning perspective this is also very useful if students need peers to give feedback on their written work. Instead of sending files back and forth they can give fellow students access to their documents and easily keep track of comments and proposed changes. Obviously this method can also be used between students and teachers for supervision or working with learning portfolios or other process-oriented assignments.
In class, online documents can also be used to collect input from group work, so that all groups type in their input simultaneously in the same document. Apart from having a concrete output from the group work, it also gives the teacher a unique chance to follow the discussions during the class activity.
What is the value
Only one version of each document
Students and teachers can work on the same document simultaneously
Great for giving (peer) feedback
* When using these services, it is very important that you never store confidential information on their servers, since the University of Copenhagen cannot guarantee that the level of privacy is sufficient to keep your data safe. These have not been approved by the university due to GDPR issues. Please also make sure that you do not share any content that is protected by copyright.