Teacher: Morten Nyboe Tabor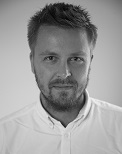 Morten Nyboe Tabor has put considerable effort into designing activities for his students between lectures. The idea is to give them a deeper understanding of their subjects.
The two main ones are quizzes based on the curriculum and short YouTube videos in the form of either pencasts (consisting of theoretical analysis of one of the models in the curriculum) or screencasts (which show how to perform statistical analyses using the program OxMetrics).
The quizzes encourage students to test their own understanding of the curriculum and help them focus on key elements. They are set up in Absalon, and students can take them whenever and as often as they wish.
"For me as a teacher, this has been a way to generate feedback on student learning and identify what students find difficult, so that I can address that in the lectures. I usually check the quiz results prior to the lectures to see the percentage of correct answers," says Morten.
Videos are used as general introductions to a topic and for reiterating key points. This means that students are better prepared for lectures, leaving more time to focus on difficult topics.
Pencast example:
Screencast example:
The videos are published on YouTube but also embedded in Absalon, so that students are able to prepare for lectures without leaving the system.